Bottle Bricks
I'm on the board of directors for Compassionate DFW, a non-profit organization promoting the acceptance of the Charter for Compassion in the metroplex. Based on this association, I've become very interested in bottle bricks. I'll provide a number of links below. The idea is to take a lot of similar-sized plastic bottles and pack them tightly with non-biodegradable waste material. The result is a solid "bottle brick" that 1) can be used in construction projects and 2) keeps this waste material out of landfills and oceans.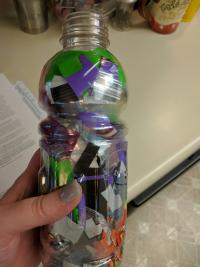 Using a mixture of natural ingredients (sand, mud, clay, water) and perhaps some man-made cement, a mortar is made to contain the bricks. Many projects have included benches, but walls and other enclosures have also been constructed. In thinking about this, it seems to me that a long-term project of filling and collecting bottles could be started - I'd like to involve the youth at my church, and invite other churches and maybe even local elementary schools to join in. At some point, we'll have enough bricks to build a project. It might take anywhere from 6 months to a couple of years to get to that point.
We should have a goal in mind, and I'm currently looking at various places around Richardson where it might be appropriate to build and install an "earth bench". Or perhaps a round wishing well type enclosure that could be used as a raised planter. If you have an idea, let me know!
Please check the links below, share the link to this page, and contact me if you're interested in helping, participating, or being a part of the final project!
In any case, grab a 20oz Gatorade bottle and rinse and dry it out. Then pull off the label and plastic rim and shove them inside. Keep the lid, and continue to shove in pieces of plastic. Keep packing it in, using a wooden spoon or special "smash tool" to fill all available space. If something seems too big, use scissors to cut it into 1" strips, then 1" squares. When it's so full that you can't smash in any more or squeeze the sides, it's done! Screw the lid back on, write your name or a message on the bottle, or decorate it in some way if you want.
That was easy, right? If you're like me, you'll be surprised at how much plastic waste you can fit into your bottle. You should feel good knowing that you've helped our environment by keeping all that plastic out of landfills and oceans. Are you ready to fill another bottle? Maybe you can get some of your friends to start one too. Whether you fill a bottle or not, please cut up those plastic six-pack holders before you toss them anywhere.
Contact me and let me know how you're doing. We want to know how many bottles are filled so we can decide how close we are to our goal of building a bench (or whatever we decide to build). At some point, we'll want to get all the bottle bricks together. Also let me know if you want to be involved in helping to build the final project. In any case, we'll be glad to keep you informed how the project is coming along.
Some reference links:
Ron Bemis
469-278-5429
rbemis@hotmail.com